I get a little excited when we go out to eat and I see pickle chips on the menu. So when I found this recipe on Pinterest I just had to try them out.
Baked "fried" pickles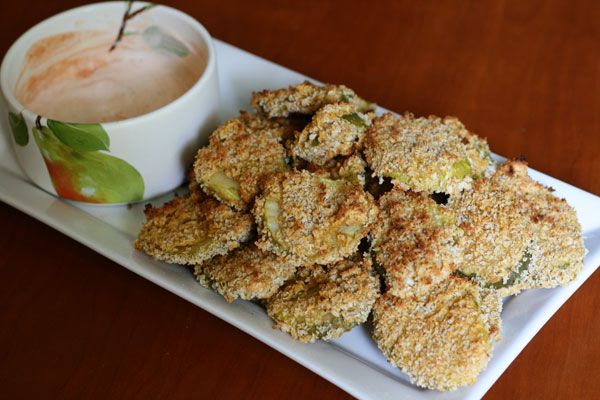 Ingredients
1 jar pickle slices, preferably the oval dill pickles for sandwiches
2 eggs
1/3 cup flour
1 Tbsp Worcestershire sauce
1 tsp hot sauce
1 tsp garlic powder
1 tsp Cajun seasoning (or "hot" chili pepper seasoning)
1 tsp pepper
1 1/2 cups panko bread crumbs
Ranch dressing + hot sauce for dipping
Directions
Turn oven broiler on high.
In a medium bowl, whisk together eggs and flour. Add Worcestershire sauce, hot sauce, garlic powder, Cajun seasoning, and pepper. Mix well.
Place panko bread crumbs in a shallow dish. Dunk each pickle slice into the egg mixture, than dredge it in the panko bread crumbs.
Place coated pickles baking sheet and sprayed with non-stick cooking spray. Place pan in the middle rack of the oven. Broil for about 3 minutes on each side.
Serve with Ranch dressing and a dash of hot sauce.
These are so yummy even without the dip. I ended up using a sour cream ranch dip b/c that is what I had on hand. I could eat the entire tray!
Or you can try this time friendly option...
To my pleasure I found recently that
Farm Rich
now has them frozen which are super convenient when I'm feeling like baking only a little amount up for myself. Check them out in your freezer section and enjoy my homemade baked recipe below. I love them with Ranch dressing of course.