Was it really 7 yrs ago today that I said I do? Some days it feels like 7, some it feels like 14. That isn't to say we don't feel fresh and still in love, just that so much seems to have happened on 7 years that when I look back on our wedding pictures we look like a couple of kids.
It was a no brainer for us to pick fall as the time to say our "I Do's". I just love the weather and the color palette couldn't have been more fun to chose from. Plus I turn into an evil person in the hot sun so summer was out.
We got married in an old boys school that had been renovated as a banquet hall. The venue even had a chapel on site. There was a gorgeous grotto outside too that I really wanted to get married in, but didn't want to take the chance of the weather being bad. We did a sit down dinner and reception immediately following the ceremony.
I laugh now because when we were interviewing photographers I didn't want digital because I didn't know if it would be as good of quality as traditional film. Anyways, our photographer was just starting to use digital film, I think we were her second wedding. She did all of these "effects" to our pictures and got a little photoshop happy with them. Kinda dated now that I look back on them, but oh well.
This makes me laugh. I am not a chocolate fan, but my father and rest of the family definitely are. When he heard about the chocolate fountain he offered to pay for it for us, so I said sure. It was a hit and all people talked about. From being on the Knot planning my wedding so much, I thought they were old hat, but apparently my guests didn't get out to much because it was new to them. I remember the entire reception hall smelled like chocolate. Sorry for the creepy editing, but thanks for understanding my guests privacy as they pig out.
What was your wedding like? I love to hear about all of the different customs, traditions, and details that others do for their weddings. I'm cohosting this week with
Growing Up Geeky
so link up your wedding pictures and posts, no matter how many wedded years of bliss you have under your belts!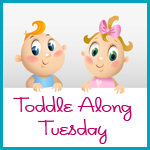 This week's Toddle Along Tuesday topic is weddings! Share your photos and tell us about your special day! There are no rules here, except that you link up a relevant post (old or new) rather than your whole blog.