Toddle Along Tuesday's topic this week is Places to Shop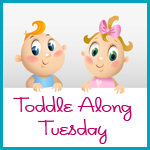 Here are a few of my picks.
Ann Taylor and Banana Republic- where I'd shop if money grew on trees. Thank goodness they both have outlet factory stores :) I love the classic styles and tailored looks. Many of their pieces can be worn season after season or just paired with a trendy article at the time. I've never had issue with quality either. I've gotten better about making smarter clothing choices so I actually can shop here versus just splurging on pieces that are a "deal". (See Below)
Where I shop because money doesn't grow on trees...
Kohl's and Target- where I bargain shop. I am a sucker for their clearance sections and the coupons from Kohl's. Plus they are closer to me than the mall stores. I like to steer away from them sometimes for clothing because it seems like everyone around me shops there and I like to try to be different.
For the husband:
JC Pennys and Macy's practically give him free clothing when we walk in. I have no idea why, but the deals he scores at these stores makes me green with envy!
For the boys:
Besides Kohls and Target for them I also get some great stuff at