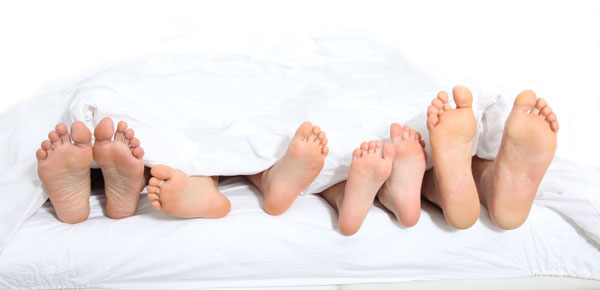 I've never co-slept with either of my boys. And it wasn't by choice. This post isn't meant to fuel any mommy wars going on out there, but simply for me to complain and whine that I don't have cuddly babies that ever wanted to co-sleep with me.
I planned on at least having Alex stay his first night home in our room in his pack and play, but DH was against it. WHAT?! But we are one layer of drywall, insulation, and another layer of drywall away from him! That was entirely too far for this momma bear, but my the sleep-deprived-self caved and gave into daddy bear that night. Alex took to his crib quiet easily and I was left with no baby to cuddle. That first night out I'm pretty sure any possibility of bed sharing or co-sleeping went out the window. Alex was an independent guy.
With Cameron I was going to switch it up. I was going to try again at least during nap time. Nope. Denied again. He wanted his crib and was perfectly content in it. He did however fall asleep in my arms. A lot. And I let him. A lot. Practically all 12 weeks of my maternity leave if he wanted to nap in my arms I let him. I didn't care that the house was cluttered, dishes not done, laundry calling my name. I knew that those 12 weeks were going to fly by and all of my cuddling with it. I soaked up every minute with him along with trashy reality tv.
I know there might be moms out there reading this going. STFU
"oooh, waaaahhh my baby sleeps soundly though the night in its crib"
. I know that and I am 142% thankful that is the case considering anyone who knows me, knows that I possibly might love sleep more than my children. Like I said, I just wanted to complain that I didn't get some extra cuddles and it is my blog so I get to write that.
Now onto what spurred this post from this past weekend....
When we go out of town to visit family, we get to co-sleep with Cameron in the same room. "Yay", right?
Wrong
. Since I already explained how my children are independent sleepers, you can only imagine the migraine inducing crying that occurs when we try to put Cameron in his pack and play when we visit my grandma's 2 bedroom house. We have found a solution to the problem somewhat. Cameron gets put in her closet (in his pack and play, not just on a pile of clothes) and we turn on the bathroom fan. This seems to have some effect on calming him down a little. Poor little guy has to suffer smelling 92 year old shoes and looking at hideously outdated bright colored polyester fashions, but tough.
Then we have Alex. We have a king size bed and he likes to sleep in bed with us. We should banish him to the floor, but we don't. Instead we get to see who survives the Gauntlet and wakes up uninjured. I can usually count on a good smack in the face and kick to the stomach. DH of course gets smacked around too. Well this past weekend I was lucky enough to wake up around 5:30am and find Alex's face covered in blood, along with his pillow, and my pillow. Tell me that wouldn't freak you the f%*k out. He was still sound asleep, but poor bubby had a bloody nose apparently in the middle of the night. I'm pretty sure it was just the dry weather up there, and not me hitting him in my sleep.
At least that is what I'm telling myself.
And then of course I try to clean up his face while not waking up Cameron in the closet.
So sorry I don't have pictures to share of this hilarity, I do hope you'll forgive me. About the only thing I can relate it too is this diagram that has been shared on the interwebs.
Do you have any co-sleeping or bed-sharing stories?