This week is based around 3 meals and the rest are leftovers. The 3 meals are so YUMMY that we all don't mind eating them more than once!
Sunday: Tacos / Taco Bowls

Monday: Out to Dinner w/ Big Brother
Tuesday: Lemon Chicken & Pasta (didn't get to this one last time)
Thursday: Chicken Potato Bowl (look for recipe soon)
Friday: Movie Night Out --- Hunger games!!
Saturday: tbd -- extended family may or may not be here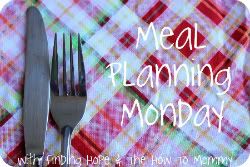 Linking up with
The Organizing Junkie
today!