Since I seem to squeeze in some Pinning Time every week, I have joined along a weekly blog hop sponsored by
Midnight Mommy
and
Another Day in Paradise
. Check back weekly to see what I've found and link up too!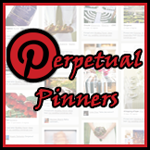 This week I focused on some ideas for the helping around the house
Sort socks in laundry bags. This is a must for toddler socks split between two boys. It has already saved me time this week.
Perfect solution for my bed frame -- upholster box springs with fabric
I am hoping this works on my sink too.